ANIMail Service



---


Please enter full email address. ie. edward@antioch.sg
Older Stories
Tuesday 25-Dec
Thursday 22-Nov
Tuesday 26-Jun
Wednesday 05-Apr
Sunday 05-Mar
Thursday 30-Dec
Sunday 26-Dec
Thursday 25-Nov
Saturday 02-Oct
Friday 27-Aug


The width, length, height and depth of his love

Sunday, 15 February 2004 @ 02:52 am SGT
Contributed by: Yinghuo Chong
Views:: 9,725

On this day, when so many people declare their love to one another, I want to declare mine for the Lord.
read more
(967 words)

Invitation to His Feast...

Wednesday, 21 January 2004 @ 08:16 am SGT
Contributed by: Gatekeeper
Views:: 7,712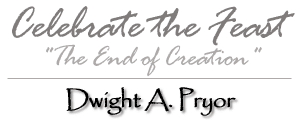 "You shall observe the Feast of Tabernacles seven days,
when you have gathered from your threshing floor and from your winepress.
"Seven days you shall . . . surely rejoice."
(Deuteronomy 16.13-15 NKJV)



"What is the end for which God created the world, and how might we contribute toward that goal?"

Asking this question of ourselves can profoundly impact the way we live. It can reorient our priorities and fill us with a sense of divine purpose in an otherwise mundane life. It can enlarge our understanding of the great salvation we have in Messiah Jesus and transform the way we relate to our Father, the mighty Creator and gracious King of the Universe.
read more
(867 words)

CHINESE PASS OVER

Tuesday, 13 January 2004 @ 06:44 am SGT
Contributed by: Gatekeeper
Views:: 7,866

This is a re-run from 2003 but I feel a worthwhile read.... ---------------------

As we prepare to celebrate Chinese New Year on Feb 1st 2003, I could not help but notice that it falls on the shabbat of the Jews - a Friday.

I had been contemplating the possible Hebraic roots of the Chinese for a while, ever since I read the book-The Discovery of Genesis by Kang and Nelson, which documents their findings that stories of the flood and Old Testament concepts appeared reflected in the Chinese language.
read more
(336 words)

The lost coin

Monday, 27 October 2003 @ 12:34 am SGT
Contributed by: Gatekeeper
Views:: 7,629

Have you ever wondered the significance of the parable of the lost coin.

For a long while, I always wondered what was the big deal with the lost coin in Luke_15:8-9. Why did Jesus use a illustration of a lost coin, and why would a woman take the trouble to look for one lost coin, and after finding it, throw a party for the neighbours?

Well, if you are interested to know...
read more
(312 words)


Poll
Have you visited Antioch's Church Directory? If you have, would you consider sponsoring your: 228 votes | 0 comments

What's New
STORIES
No new stories

COMMENTS last 2 days
No new comments